The collegiate church of Sant Pere Àger hosts a conference on heritage and history that will bring together about twenty people
The event will take place on May 14, is entitled 'Collegiate Church of Àger: architecture and reconquest of the Pyrenees in La Plana' and is organized by Catalonia Sacra, a joint project of the ten Catalan bishoprics to revitalize the cultural heritage of the territories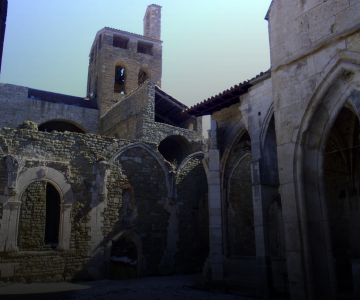 The collegiate church of Sant Pere d'Àger hosts a day of reflection on heritage and history that has been scheduled for May 14 and is expected to bring together about twenty historians, tourist guides and people interested in expanding its knowledge about the territory and its future. The conference, entitled 'Collegiate Church of Àger: architecture and the reconquest of the Pyrenees in La Plana' is organized by Catalonia Sacra, the organization that promotes the joint project developed by the ten Catalan bishoprics to boost the cultural heritage of the territory.
From the City Council, the mayor, Mireia Burgués, values ​​very positively the fact that Àger can host "activities of outstanding cultural interest" which, in addition, bring people to the town who will enjoy the opportunity to get to know us even better and enjoy our restaurants, our landscape and our trade, "he says.
The activity scheduled in Àger starts, this May 14, with the conference 'The Christian conquest of the Pyrenees in the Àger Valley' by Maria López and Sergi Tella, both professors at the UdL, through which they will reflect on how the expansion of the Catalan counties to the south was accompanied by the construction of a multitude of churches that became one of the mainstays of the occupation of the territory. Then, the twenty people who are expected to take part in the day will be able to get to know the Collegiate Church through the help of Francesc Fité from Ager.
Gathering of St. Helena
This 14th of May, the 2022 edition of the Saint Helena Gathering will also be held, which will take place in the 15th century hermitage of Ager, which is called: "with spring, and thanks to the positive health evolution, we recover the different gatherings that are celebrated in the municipality. Last week we lived the one of the Virgin of the Pertusa, which stands out as one of the most unique of the year for the location of the temple in an isolated environment with spectacular views. More than 70 people took part in it and now, this Saturday, the day of the Gathering of Saint Helena arrives, which is celebrated in this hermitage, a place of blessing of the term ", explains the mayoress.